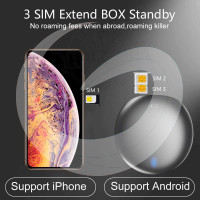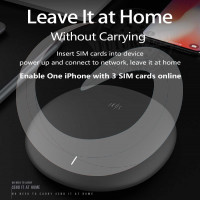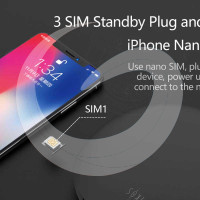 No roaming abroad SIMadd iKos 3 SIM 3 waiting to activate online at the same time Android WiFi Router for iPhone / 6/7/8 / X iOS 7-12
No roaming abroad SIMadd iKos 3 SIM 3 waiting to activate online at the same time Android WiFi Router for iPhone / 6/7/8 / X iOS 7-12
Categories: Security & Protection/ Smart Home wireless
No roaming abroad SIMadd iKos 3 SIM 3 waiting to activate online at the same time Android WiFi Router for iPhone 6/7/8 / X iOS 7-12
This product can support 2 Sim, so you can have 3SIM card waiting with yourI phone and Android phone
There are no roaming charges to travel abroad
Record call support
Q & A
Q: What happens if the SIM on the device has a call when the SIM on the phone is calling?
A: There will be a warning, you can choose to change the call, another call is in a paused state, you can change and restore at any time.
Q: The application is closed and does not run in the background. What happens when a call arrives?
A: When the application is completely closed, if there is a call, the application will start automatically, it will show the call interface and no call will be lost.
Q: Is it possible to use the data of the SIM card in the device?
A: The device data can not be used. You can only use the SIM card in the device to make / receive calls and send / receive SMS messages.
Q: Do you use the product called VIOP and consume a lot of data?
A: Use the SIM card in the device to make and receive calls. It is not a normal Internet call. Use the IKOS application to remotely control the SIM card in the device to make and receive calls. In fact, use your SIM card to make a call.
Q: Does it support call recording?
A: Yes, it supports call recording.
Q: Can I receive a call when my home router is disconnected or turned off?
A: If the device is disconnected from the network, you can not continue to receive calls or text messages, but our cloud server will send a reminder to the IKOS application to tell you who is calling.
Q: What is the principle of operation of the product?
A: In fact, the device is a mobile phone without a screen. You need to use the IKOS application to control the device remotely to make and receive calls.
Use of scenes
1. If you have more than 1 SIM card, but you like to use i Phone, how can we do it? This product allows you to have a maximum of 3SIM online at the time of the sime with your i phone.
2. To travel abroad and business trips, you just have to put your SIM card at home, and then you can still make or answer calls and there will be no roaming charges.
Features:
* 3SIM Device Support 2G sim card,s
* Made for iOS and Android
* No roaming fee
* Usable global
* It is not necessary to take it home.
Put it anywhere you want, and it can make you Double SIM online
Support device
Works with iOS phone and Android phone
How does the device work?
The device connects to the Wi-Fi in your home and uses the application to manage the cards inside the device.
Use the network to transmit voice and SMS
Advantage
1. Place it with your SIM card at home and you can still access your phone call or message.
2. Voice calls and messages are transferred over the internet to your phone application.
3. Connect the power and use, that's all you need to do.
4. This is the best dual SIM adapter for your phones
5. No cost will be paid when traveling to another country.
6. Suitable for home or office.
7. Small and easy to use.
8. Intelligent and beautiful.
9. much more stable and secure than other products that use bluetooth.
10. use internet to transfer voice and message, stable and energy saving.
Performance indicators modem:
Network types: GSM
Network band: GSM850MHz EGSM900MHz / DCS1800MHz / PCS1900MHz
Size: 93 * 93 * 20mm
Input power: 5 V, 500MA 1A
Interface: RJ45 Ethernet power on SIM card solt?
No roaming abroad SIMadd iKos 3 SIM 3 waiting to activate online at the same time Android WiFi Router for iPhone / 6/7/8 / X iOS 7-12
Please Login / Signup to add your review