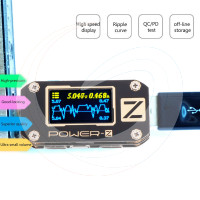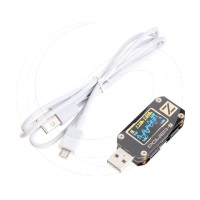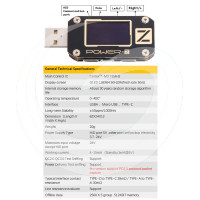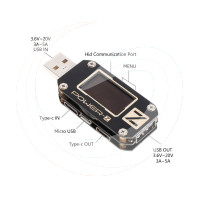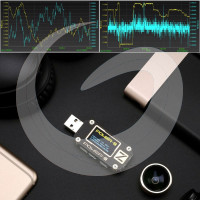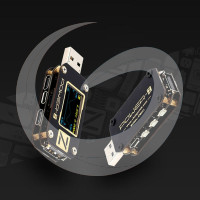 POWER-Z USB PD Tester QC3.0 2.0 Charger Voltage Current Ripple Dual Type-C KM001 Meter Power Bank Detector M13 dropship
POWER-Z USB PD Tester QC3.0 2.0 Charger Voltage Current Ripple Dual Type-C KM001 Meter Power Bank Detector M13 dropship
Categories: PRODUCT CATEGORIES/ Power Supply
POWER-Z KM001 This test table integrates a total of six USB ports, to meet the needs of most of the players test. Another feature of it is to support ripple testing. Its function is similar to a micro-oscilloscope, you can test less than 50Hz ripple, the daily use of enough.
Specifications:
Product Series: POWER-Z
Product Type: KM001
Product Name: Portable USB PD Tester
Operating voltage: 3.6-20V Current:3-5A
Support Agreement: USB PD, Qualcomm QC3.0 / 2.0, MTK PE / PE +, Huawei FCP / SCP, Apple 2.4A, BC1.2, DCP
Function:
1.Display voltage, current, power, mAh, mWh
2.Press the menu button can be transferred to the recording interface, you can set to store a variety of different capacity and energy data
3.Each stored data can be deleted and marked
4.Set the recording time interval and maximum capacity
5.Automatic run of the rule setting, current threshold setting
6.End time setting
7.Display the information interface
8.Test line resistance function
It will be measured wire into the tester, followed by a load, the resistance will always beating, until the resistance is stable, the degree, is the size of the line resistance, and there are GOOD evaluation, let you know the wire is good Bad
You can set the waveform display refresh rate, the higher the refresh rate, the faster the display
Plug in the charger, the automatic display D + and D-voltage, the following shows the charger support the charging protocol
Press the menu button, automatically trigger quick charge voltage!
Package includes
1pc POWER-Z USB Tester
1pc USB Cable
Product Series: POWER-Z
Product Type: KM001
Product Name: Portable USB PD Tester
Operating voltage: 3.6-20V Current:3-5A
Support Agreement: USB PD, Qualcomm QC3.0 / 2.0, MTK PE / PE +, Huawei FCP / SCP, Apple 2.4A, BC1.2, DCP
Please Login / Signup to add your review