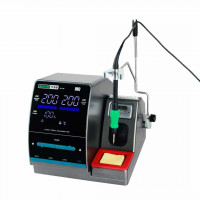 SUGON T36 220V/110V Lead-free 1S Rapid Heating Soldering Station
SUGON T36 soldering station with a JBC Tip soldering tip for mobile phone welding repair, 1s rapid heating 300W power electric heating system with JBC handle and soldering tip cell phone soldering repair. Product Parameter : Input voltage: AC110V 50/60H
Voltage:
$243.00

| | |
| --- | --- |
| Quantity | Price |
| 1- | $243.00 |
Categories: PRODUCT CATEGORIES
SUGON T36 300W High Quality Electric Heating System JBC Handle Soldering Repair Soldering Station
1. Super rapid heating experience
1 second directly to set temperature
Compared with T26, it heats up faster, more stable and can increase by half
2. Super tip nano soldering iron tip
C115 straight tip nano soldering iron tip is used for research and development, maintenance and other aspects, even when using a microscope, The short distance from the tip to the soldering pen also provides maximum control
3. Fast temperature memory channel
2 seconds to melt tin, 1 second to warm up The temperature error can be set to plus or minus 1 degree for special welding of small solder joints
SUGON T36 soldering station with a JBC Tip soldering tip for mobile phone welding repair, 1s rapid heating 300W power electric heating system with JBC handle and soldering tip cell phone soldering repair.

Product Parameter :

Input voltage: AC110V 50/60Hz, AC 220V 50/60Hz
Power: 85W
Temperature range: 200℃ - 450℃ / 232°F - 842°F

Installation Notes: Connection
(Attention: Turn off the power and avoiding damage PCB during unplug or plug in the soldering iron handle)
Plug in the soldering iron handle to the proper host socket.
Installation heating element.
Place the soldering station and hang the soldering iron handle on the bracket.
Make sure the power cord is plugged in correctly.
Turn on the machine, display window shows: "---", it is on standby mode.

Temperature setting and storage :

Press ↑ buton once, the teperature window will show the set temperature to up 1℃. hold ↑ button for at least one second, the set temperature will heat up rapidly until up to the set temperature you did set.


Press ↓ button once ,the temperature window will show the set temperature to down 1℃. hold ↓ button for at least one second, the set temperature will cool down rapidly until down to the set temperature you did set.

After parameter data is set, keep hold CH1 button to up or down temperature and save it.similarly, keep hold CH2 or CH3 button to set the storage temperature and save them.
Do bring out the memory temperature,press CH1 button (less than 1 second) and bring up the saved data, similarly CH2 or CH3 to bring up the memory data as well.with JBC handle and soldering tip cell phone soldering repair.

Package Includes :
1pc x T36 Soldering Station
1pc x T36 Handle
1pc x JBC Tip
1pc x Power Cable
Please Login / Signup to add your review