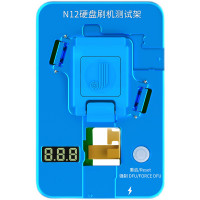 JC N12 NAND Programmer Restoring Testing One-click Into DFU for iPhone 12 / 12 Pro
JC N12 NAND Programmer Restoring Testing One-click Into DFU for iPhone 12 / 12 Pro Feature: The simplest, most convenient, and fastest HD Screen Capacitance Free ROTS Operating system Touch keys Support SD USB Communication Support Chinese and English
$115.28

| | |
| --- | --- |
| Quantity | Price |
| 1- | $115.28 |
Categories: BRAND ACCESSORIES/ JC
JC N12 NAND Programmer Restoring Testing One-click Into DFU for iPhone 12 / 12 Pro


Feature:

The simplest, most convenient, and fastest

Free ROTS Operating system

Support SD USB Communication

Support Chinese and English

Connect to PC,1 cable to restore.

One key DFU, quick start restore mode.

Test the NAND and mainboard whether defective.

Movable socket, no soldering, convenient to change the NAND.

Distinguish BGA110 NANDs, report error 6 for restoring if not 12 series.

Support 12/12 Pro mainboard restoring.


Package includes:
1 x JC N12 NAND Programmer
JC N12 NAND Programmer Restoring Testing One-click Into DFU for iPhone 12 / 12 Pro


Feature:

The simplest, most convenient, and fastest

Free ROTS Operating system

Support SD USB Communication

Support Chinese and English

Connect to PC,1 cable to restore.

One key DFU, quick start restore mode.

Test the NAND and mainboard whether defective.

Movable socket, no soldering, convenient to change the NAND.

Distinguish BGA110 NANDs, report error 6 for restoring if not 12 series.

Support 12/12 Pro mainboard restoring.




Please Login / Signup to add your review