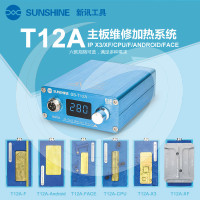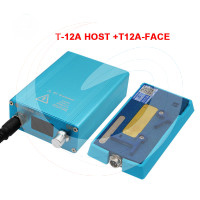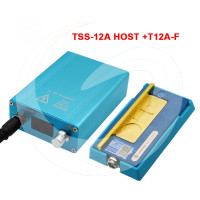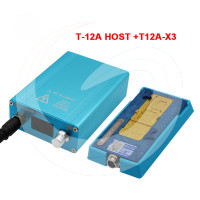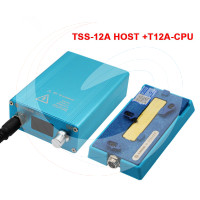 SS-T12A Soldering Station Kit Motherboard Repair Tool for iPhone 6 7 8 X XS Mobile Phone CPU NAND Heating Repair ( FULL SET )
SS-T12A Soldering Station Kit Motherboard Repair Tool for iPhone 6 7 8 X XS Mobile Phone CPU NAND Heating Repair ( FULL SET )
$196.10

| | |
| --- | --- |
| Quantity | Price |
| 1- | $196.10 |
Categories: PRODUCT CATEGORIES/ Repairing Tools
SS-T12A Soldering Station Kit Motherboard Repair Tool for iPhone 6 7 8 X XS Mobile Phone CPU NAND Heating Repair ( FULL SET )
SS-T12A Double Layers Board Pre-heating Rework Station for iPhone 6 7 8 X XS CPU185 Degree Separation Disassembly Platform
Product Feautres
Adopting 185-degree layered process to remove the IP-X motherboard, not only from our fine analysis of IP-X solder paste ,but depends on the special heating design and precise temperature control of SS-T12A.
SS-T12A only heats the area that the IP-X board needs to be removed to prevent improper heating.
Dual bayonet design, make sure the IP-X motherboard is stable on the stage.
High purity copper is used as a film to ensure uniform heat transfer and heat.
Professional iPhone X motherboard repair tools for iPhone 6 7 8 X XS MAX motherboard desoldering with different iPhone motherboard heating groove.
SUNSHINE SS-T12A has EU, AU, and US plug, 110V or 220V for select free.

Product Specifications
Material: Metal.
Color: Blue.
Applucation: for iPhone 6 7 8 X XS MAX motherboard desoldering repairin.g
Function: Phone Motherboard CPU Pre-heating Rework Station

[Option]

SS-T12A Heating Station Main Unit + SIX kinds Motherboard Heating groove:
T12A-XF
T12A-X3
T12A-Andriod
T12A-CPU
T12A-F
T12A- FACE

More Details

SUNSHINE SS-T12A iPhone X upper / lower motherboard pre-heating station adopt special heating design and precise temperature control capability, which will locate accurately locate the needed heating part. SS-T12A has dual bayonet design to make iphone X motherboard stable. SUNSHINE SS-T12A has EU, AU, and US plug, 110V or 220V for your choice. Using high purity copper to guarantee heat transfer, which is not easy for deformed, durable and anti-wear

100V-240V SS-T12A iPhone X mainboard stratified 185 degrees accurate rapid separated disassembly heating station

iPhone X logic board was folded in half, two layers then were soldered together, the upper layer is the mainboard, and the lower layer is the signal board. Which made our repair much difficult to proceed, how to repair iPhone X logic board in fast and efficient method, need the professional iPhone X motherboard repair tools
SS-T12A Soldering Station Kit Motherboard Repair Tool for iPhone 6 7 8 X XS Mobile Phone CPU NAND Heating Repair ( FULL SET )
Please Login / Signup to add your review