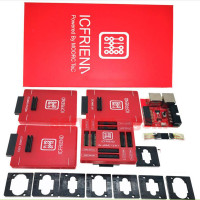 E-Mate X EMMC BGA 13-in-1 ICFriend Edition (This Product damage phone buy at own risk)
E-Mate X EMMC 13-in-1 Adapter is designated for direct EMMC memory chips connection with the wide range of supported BGA types.
$130.87

| | |
| --- | --- |
| Quantity | Price |
| 1- | $130.87 |
Categories: Test Equipment and Tools/ Cables and Adapters/ Adapters
E-Mate X MOORC eMate 13 in 1 EMMC Tool BGA Socket for Easy JTAG Plus / UFI / RIFF / Medusa Pro Box Support for BGA 529 168 100 136 254 221 168 153 186 162

Can disassemble, clear, change pin at any time, can use for a long time, can work all box to read/write full flash

Timesaving but easy to operate, Stable and efficient

Intelligent: just read it, operate the programming, reading the chip ROM1 USERDATA with just a key.

Speed: eMMC which read-write speed could be 33MB per second. Its speed is related to the eMMC version.

Simple: it is no need to choose the font type. The interface is simple and easy to use. which support all the chip package of eMMC

Reliable: special machine design of the third generation eMMC, special power supply, independent overcurrent protection


Package includes:
1 x eMate X 13 in 1 ICFriend Edition

NOTE: Buy at on own risk, we will not hold any responbility if you phone been damage while using Moorc product.
Please Login / Signup to add your review