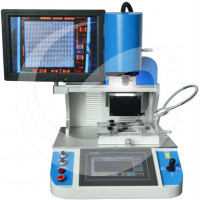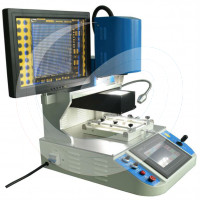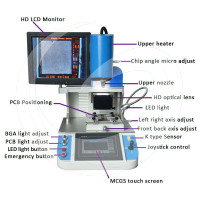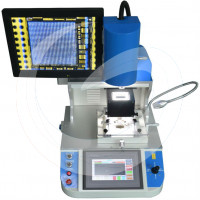 BGA rework station WDS-700 for motherboard Repair Iphone/Samsung/Oppo/Vivo/MI/LG
BGA rework station WDS-700 for motherboard Repair Iphone/Samsung/Oppo/Vivo/MI/LG
$2,351.16

| | |
| --- | --- |
| Quantity | Price |
| 1- | $2,351.16 |
Categories: PRODUCT CATEGORIES/ Repairing Tools
BGA rework station WDS-700 for motherboard Repair Iphone/Samsung/Oppo/Vivo/MI/LG
Updated functions:
A. Newest WDS-700 is the updated system with 5 modes.It's Remove,Mount,Weld,Manual and Semi-auto.The mode can be changed freely.It can be used under automatic,semi-auto & manual mode.smd bga rework station
B. Optical Alignment Aystem BGA Rework Station are widely used to replace and repair the BGA chip in mobile phone, laptop, computer, xbox360, PS2, PS3, PS4,etc.
C. The main user is repairing shops and factory to provide the after-sales service and rework.
Repair Steps:
1) Separate the BGA chip from mother board –we called desoldering
2) Clean Pad
3) Reballing or replace a new BGA chip directly
4) Alignment/Positioning – Depend on experience ,silk frame ,optical camera
5) Replace a new BGA chip - we called Soldering
More Details of WDS-700 BGA Rework Machine
| | | |
| --- | --- | --- |
| 1: | Superior function | Auto soldering desoldering mounting BGA/IC |
| 2: | Power supply | AC 220V±10% 50/60Hz |
| 3: | Total power | Max 2500W |
| 4: | Heater power | Upper temp.zone 1200W,Down temp.zone 1200W |
| 5: | Electrical material | Driving motor+PLC smart temp.controller+color touch screen |
| 6: | Temperature controlling | (high precision K-sensor)(Closed Loop),independent temp.controller,the precision can reach ±1℃ |
| 7: | Locating way | V shape slot,PCB support jigs can adjust |
| 8: | PCB size | Max 140×160mm Min 5×5 mm |
| 9: | Applicable chips | Max 80×80mm Min 1×1 mm |
| 10: | Overall dimension | L450×W470×H670mm |
| 11: | Temperature Interface | 1 pc |
| 12: | Weight of machine | 30KG |
| 13: | Color | Blue+White Optical alignment system BGA rework station |
BGA rework station WDS-700 for motherboard Repair Iphone/Samsung/Oppo/Vivo/MI/LG
Please Login / Signup to add your review