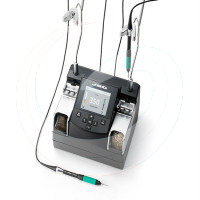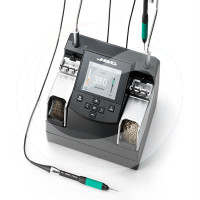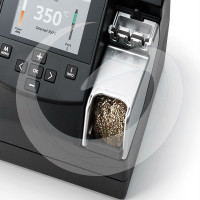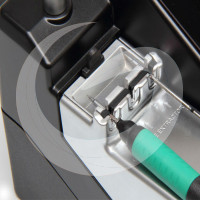 JBC nano rework soldering station NANE-2C with 0.1mm soldering tips and two handle
JBC nano rework soldering station NANE-2C with 0.1mm soldering tips and two handle
$1,132.15

| | |
| --- | --- |
| Quantity | Price |
| 1- | $1,132.15 |
Categories: PRODUCT CATEGORIES/ Soldering Iron
JBC nano rework soldering station NANE-2C with 0.1mm soldering tips and two handle
JBC nano rework soldering station NANE-2C with 0.1mm soldering tips and two handle
Product Composition:
· NAE-C Control Unit
· NT115-A Nano Handle
· NP115-B Steady Nano Tweezers
· 0020952 Cartridge set: C115-101, C115-103, C115-107, C115-112
· 0020953 Cartridge set: C115-105 (x2), C115-113 (x2)
Uses C115 Cartridge range
The best solution for soldering very small-sized components requiring the highest precision such as chips 0402, 0201, 01005, etc.
It works simultaneously with two NT105 Nano Handpieces. The short distance from the tip to the handle offers maximum control even when using a microscope.
It works with the JBC exclusive heating system and the intelligent sleep & hibernation modes.
It features all the Excellence range benefits and
an easy-to-use menu which helps you monitor the work in real time: graphics, partial counters, tool port monitoring, etc.
Cartridges included: C105101 x1 - C105103 x1 - C105105 x2 - C105107 x1 - C105112 x1 - C105113 x2.
Product Composition
Control UnitsNAE CONTROL UNIT
Tools Nano Handle
Cartridges Cartridge Knife 2,5 x 0,3 , Cartridge Chisel 1 x 0,3 , Cartridge Bent Ø 0,3 , Cartridge Conical Ø 0,8 , Cartridge Conical Ø 0,1 , Cartridge Conical Ø 0,3 S1
Technical Specifications
Ambient operating temp.: 10-40 C (50-104 F)
Communication connectors: USB-A / USB-B / Pedal
Dimensions: 170 x 90 x 135 mm
Idle Temp. Stability (still air): 3 C (5.5 F)
Input Fuse: 0.5A / 0.2A / 0.5A
Output Peak Power: 14W per tool
Package dimensions : 280 x 280 x 164 mm
Package weight: 3 kg
Robot connector: RJ12 for RS-232 protocol
Temperature selection: 90-450 C (190-840 F)
Tip to ground resistance: <2 ohms
Voltage: 120V / 230V / 100V
Weight: 3kg
ModelStandardDifferenceLanguagePowerVoltageDimensionsWeightTemperatureNANE-2BCONTROL UNIT:
NAE-B Control
Nano Handle:
NT105-A(x2)

Soldering Tips:
C105-101,C105-103,
105-107,C105-112,
C105-105(x2),
C105-113(x2)Nano Soldering StationEnglish45w230V170 x 90 x 135 mm3KG90-450 CNASE-2BCONTROL UNIT
NAE-B
Nano Handle:
NT105-A
NP105-B

Soldering Tips:
C105-101,C105-103,
105-107,C105-112,
C105-105(x2),
C105-113(x2)Nano Rework StationEnglish
JBC nano rework soldering station NANE-2C with 0.1mm soldering tips and two handle
Please Login / Signup to add your review