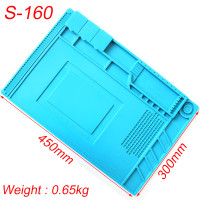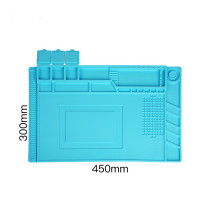 S-160 Silicone Pad Desk Platform 45x30cm for Soldering Station Iron Phone PC Computer Repair Mat Magnetic Heat Insulation
S-160 Silicone Pad Desk Platform 45x30cm for Soldering Station Iron Phone PC Computer Repair Mat Magnetic Heat Insulation
Categories: PRODUCT CATEGORIES
Note: It is just the Magnetic Silicone Repairing Pad, It does not include the any other Tool
Specification:


High temperature resistance.
A variety of screws to prevent loss.
Independent magnetic division.
Soft silicone, full of elasticity.
Increase thickness.
Antistatic, large working area.

Detail Pictures:
S-160 Silicone Pad Desk Platform 45x30cm for Soldering Station Iron Phone PC Computer Repair Mat Magnetic Heat Insulation

The mat add built-in scale ruler (0 ~36cm), 124 screws position and 3 pcs part boxes with lid, 18 notches to make your work easy.
It resists corrosion and out of shape, its made of high quality silicone.
The mat has excellent heat insulation performance, the soldering iron can directly solder in the mat.
Anti-Slip and Anti-static Design, Both surface and back side are adopting the anti-slip design.
It is an ideal product for soldering electronics assembly or electronics and circuit board repair.
S-160 Silicone Pad Desk Platform 45x30cm for Soldering Station Iron Phone PC Computer Repair Mat Magnetic Heat Insulation
Please Login / Signup to add your review