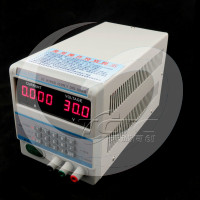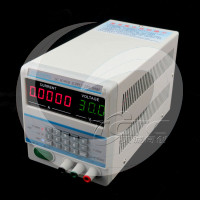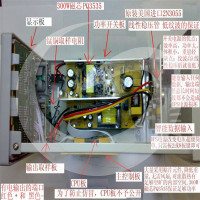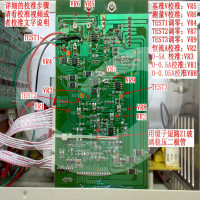 DPS-305BM 220V / 110V 4 PS Digital Display Control 30V 5A DC voltage regulated power supply for repairing Lab
DPS-305BM 220V / 110V 4 PS Digital Display Control 30V 5A DC voltage regulated power supply for repairing Lab
Categories: PRODUCT CATEGORIES/ Power Supply
DPS-305BM 220V / 110V 4 PS Digital Display Control 30V 5A DC voltage regulated power supply for repairing Lab
DPS series digital adjustable input DC power supply is designed for laboratory, school, production lines and electronic repair designed for use. The voltage stability is high, small wave factor, has improved short circuit protection and overcurrent protection. Due to the voltage value is a digital keyboard input, shorten the voltage adjustment time, completely overcomes the traditional adjustment of the bad contact potentiometer caused by the phenomenon of voltage instability. The internal power supply that contains electronic switch, can conveniently open the output load.
Added value function: a quick call 10 current voltage and data groups and store the user requires 10 current voltage and data groups, password lock keypad, prevent misuse or vandalism.
Technical parameters DC power
1 output voltage: 0-30 V precision: ± 0.1 V
Constant current value: 0-5A accuracy: ± 0.01A
3 OCP current: 0-5A accuracy: ± 0.01A
4 shows four current measurement accuracy:
0000-0 450 A ± 0.001A
0.450 ---- 5A ± 0.01A
Display precision 5: 00000-0. 0450 A ± 0.0001A
0.0450-0.450A ± 0.001A
0.450 ---- 5A ± 0.01A
Specification
1, conditions and dimensions of work classified
Supply voltage 220 V + 10% 50 / 60Hz (110 V need to order)
Working conditions: 0-40 relative humidity 80%
Storage temperature: -10-70 C 70% relative humidity
Dimensions: 265x150mm x 128 (D * W * H)
DPS305 2.3 kg
2, regulated state parameters
The voltage output from 0 to 30 V can be adjusted continuously (to distinguish the value of 0.1 V)
Output voltage: + 0.1 V
Stability of tension: <0.01% + 3mv
Load stability: <0.01% + 3mv
Recovery time: 100uS
Wave noise voltage: <1 mVRMS (5Hz-1 MHz)
Temperature coefficient: <300PPM / C
3, the current parameters of the current state
Constant current value: 305 cm 5A Ma maximum constant current 500 mA
303 cm 3A Ma maximum constant current 500 mA
Constant current output current from 0 to the adjustable value (to distinguish the value of 0.01A)
Constant current output accuracy: + 0.01A (MA constant current accuracy: + 1mA)
The current stability of <0.1% + 3mA
Load stability <0.1% + 3mA
Ripple noise current <3 mARMS
4, current and voltage screen accuracy
Precision of the voltage display: + 0.1 V (Constant current state)
Precision of the screen: + 0.01A (constant pressure)
Current display frequency Ma: + 1mA (constant pressure)
5, storage capacity
Storage and call ten current, voltage data (305 / CM)
Initial has been deposited in the data: 1 keys (3 V) 2 (5 V) button 3 (9 V) 4 (12 V) button 5 button button (13,8 V) 6 (15 V) 7 (18 V) 8 button Button button (19 V) 9 (20 V) 0 (24 V) The current key value is 5A, the user can arbitrarily modify the desired voltage and current.
6, a range of voltage step
10 V / 1 V / 0.1 V step lift voltage
Three characteristics of the panel
In 1, the front panel
Current screen window
Voltage screen window
Data entry keyboard (double-function keys are: 0 / mA decimal point / latch / ENT / Password 4 / step-by-step
7/8/9 step / Step 2/1 Step 3 / step)
Constant voltage / ENT indication of the lamp
Constant current lamp
Output indicator
Ma status indicator
Power switch
Output ports: "-" negative polarity (black)
Earth terminal (green)
Ports of departure: "+" the positive (red)
DPS series DC power supply brief technical parameters
1 Output voltage: 0-30V Accuracy: ±0.1V
2 Constant current value: 0-5A Accuracy: ±0.01A
3 OCP Current value: 0-5A Accuracy: ±0.01A
4 DPS-305BM Four-position current display measurement accuracy: 0000—0.450A ±0.001A
0.450----5A ±0.01A
DPS-305BF five-position current display measurement accuracy: 00000-0.0450A ±0.0001A
0.0450—0.450A ±0.001A
0.450----5A ±0.01A
The difference between BM and BF
1: BM is a four-digit display with an accuracy of ±0.001A (1 mA)
BF is a five-digit display with an accuracy of ±0.0001A (0.1 mA)
2: BF has three more functions than BM:
A: Power-off audible alarm function---Mobile phone notebook and other maintenance output short-circuit audible alarm (latest design!)
B: Mobile phone signal test---30-2400MHZ broadband signal test, including mobile phone 1G-4G signal strength test, can also test walkie-talkie cordless phone car remote control, etc. (BF exclusive)
C: The current is displayed one more. The other features are the same. (5 digits display one more than four digits, the display is more accurate)
The three major advantages of the power supply:
1. Light weight is a major advantage of this power supply, a large number of internal use of patch components, thereby reducing the error of manual plug-ins, avoiding the desoldering of components in transportation, and saving freight costs.
2. The main parts inside the machine adopt imported components (see the figure below)
3. Sufficient power: the power output of the power supply switch The core of the transformer is the PQ3535 core. The maximum power of the core is more than 300W, and the output power of the power supply only uses half of the power of the wider core (see The following figure)
Fanless design , lightweight design, added unique power-on shutdown protection, eliminates the impact voltage of power-on and shutdown, and allows long-term short-circuit state OCP over-current automatic stop output protection (more suitable for mobile phone repair), analog knob power supply can not To achieve two current protections (CC and OCP), the knob power supply can only have one of the current protections.
DPS series power supply brief operation instructions
1 Voltage value input: Press the V key, press the 1 and 2 keys respectively, and press the ENT confirmation key to output 12V.
2 voltage stepping: 7 and 8 and 9 buttons are respectively stepping up the voltage, and the 1 and 2 and 3 buttons are respectively stepping down the voltage.
To prevent erroneous operation, press the 4 and 7 buttons simultaneously or press the 4 and 1 buttons simultaneously to step the voltage first (step 10V).
3 Constant current protection value input: Press I key, press 3 key, press ENT confirmation key, the power supply will automatically flow at 3A when short circuit or over current.
4 Output and stop output: When the OUT button is pressed and the OUT indicator is off, the output is stopped. When the OUT button is pressed, the output is re-output.
5 Quickly click on the decimal point, then click any button in 0-9 to recall the hidden data in the button (CM/CF exclusive)
6 Long press the 5th button to enter the mobile phone maintenance status, 4.2V 2A overcurrent automatically stops the output protection status.
7 Long press the 6th button to enter the notebook maintenance state, 19V 5A constant current protection state.
8 Press and hold the 0 button to enter the mobile phone signal test state, just press and hold the 0 button again to return (DM BF CF exclusive).
Application areas: electronic product debugging, electronic technology research and development, electronic product aging, electronic product maintenance, various battery charging, school electronic test.
Use AC voltage: Input AC voltage should be 220V plus or minus 10% 50Hz (110/220V to order)


Traditional potentiometers regulate the insufficiency of analog regulated DC power supply.
1 Setting the voltage and current values ​​is cumbersome. You cannot set the output voltage value and current value at once. You must rotate it repeatedly to set the desired value.
2 Voltage and current adjustment potentiometers Due to the short mechanical life of the structure, the carbon film is easily contacted, resulting in unstable voltage or current output. In severe cases, high voltage or pulse voltage or pulse current output may occur, damaging the load circuit.
3 After the power is turned on, the power supply automatically outputs the voltage directly, which cannot meet the needs of some applications that require manual operation.
4 There is no voltage output breaking switch, it is not convenient to cut off and turn on the load, only repeated power on and off, which brings inconvenience to the use.
5 The voltage value and current value cannot be locked. It is often intentionally or unintentionally manipulated to adjust the voltage or current value to damage the load circuit.
6 The fan keeps running after the power is turned on, and the noise is high.
7 There is only one way to protect the current.
8 After setting the constant current protection value, you can only short-circuit the output port. After adjusting the current knob, you can set it. The process is cumbersome.
DPS series programming DC power supply
Features:
CC constant current step-down protection (for notebook) and OCP over-current automatic stop output protection (applicable to mobile phones). Any switching
power-on does not output voltage or power-on direct output voltage. Users can set the
positive and negative outputs arbitrarily in two power-on states. The port allows 24 hours of any way uninterrupted maximum current maximum voltage short circuit
extremely simple operation mode (first time you only need to press 2 and 8 button to get the required voltage value, other buttons do not press) fanless design, true ultra-quiet ( Switching power supply step-down regulator, linear regulator output)
lightweight design of the fuselage (under the premise of sufficient power), more than half of the
unique power-on postage saves the power on/off protection circuit, eliminates the impact voltage
without the need to select the fast direct 10V- -1V--0.1V stepping voltage value
intelligent digital keyboard input voltage and current data
constant voltage, constant current automatic switching mode of operation
voltage output contactless breaking load function
storage / fast call 10 sets of current and voltage data (CM/CF Unique)
password lock keyboard ( common to CM/CF)
DPS series DC power supply brief technical parameters
1 Output voltage: 0-30V Accuracy: ±0.1V
2 Constant current value :0-5A Accuracy: ±0.01A
3 OCP Current value: 0-5A Accuracy: ±0.01A
4 DPS-305BM/CM Four-position current display Measurement accuracy: 0000—0.450A ±0.001A
0.450----5A ±0.01 A
DPS-305BF/CF five-position current display measurement accuracy: 00000-0.0450A ±0.0001A
0.0450-0.450A ±0.001A
0.450----5A ±0.01A

Application areas: electronic product debugging, electronic technology research and development, electronic product aging, electronic product maintenance, various battery charging, school electronic test.
Use AC voltage: Input AC voltage should be 220V plus or minus 10% 50Hz (110/220V need to order)
DPS series power supply brief operation instructions
1 voltage value input: press V key, press 1 and 2 respectively, press ENT to confirm The key outputs 12V.
2 voltage stepping: 7 and 8 and 9 buttons are respectively stepping up the voltage, and the 1 and 2 and 3 buttons are respectively stepping down the voltage.
To prevent erroneous operation, press the 4 and 7 buttons simultaneously or press the 4 and 1 buttons simultaneously to step the voltage first (step 10V).
3 Constant current protection value input: Press I key, press 3 key, press ENT confirmation key, the power supply will automatically flow at 3A during short circuit or over current.
4 Output and stop output: When the OUT button is pressed and the OUT indicator is off, the output is stopped. When the OUT button is pressed, the output is re-output.
5 Quickly click on the decimal point, then click any button in 0-9 to call up the hidden data in the button (CM/CF series).

Traditional potentiometer adjusts the shortage of analog regulated DC power supply.
1 Set the voltage, The current value is cumbersome. You cannot set the output voltage value and current value at once. You must rotate it repeatedly to set the desired value.
2 Voltage and current adjustment potentiometers Due to the short mechanical life of the structure, the carbon film is easily contacted, resulting in unstable voltage or current output. In severe cases, high voltage or pulse voltage or pulse current output may occur, damaging the load circuit.
3 After the power is turned on, the power supply automatically outputs the voltage directly, which cannot meet the needs of some applications that require manual operation.
4 There is no voltage output breaking switch, it is not convenient to cut off and turn on the load, only repeated power on and off, which brings inconvenience to the use.
5 The voltage value and current value cannot be locked. It is often intentionally or unintentionally manipulated to adjust the voltage or current value to damage the load circuit.
6 The fan keeps running after the power is turned on, and the noise is high.
7 There is only one way to protect the current.
8 After setting the constant current protection value, you can only short-circuit the output port. After adjusting the current knob, you can set it. The process is cumbersome.

DPS Series DC Power Supply Instruction Manual
1 Overview:
DPS series digital input adjustable DC power supply is designed for use in laboratories, schools, production lines and electronic maintenance. High voltage stability, low ripple factor, perfect short circuit protection and overcurrent protection, the output is not afraid of any form of short circuit. Since the voltage value is a digital keyboard input, the time for setting the voltage is shortened, which completely overcomes the voltage instability caused by the conventional potentiometer adjusting the contact failure. The power supply contains an electronic switch inside, which can easily break the output load.
B BM BF CM CF has the following functions and functions:
1 Common functions: constant current and constant voltage, output breaking, OCP over-current automatic cut-off, can be set to start immediately, fast voltage stepping and other functions.
2 B BM BF function is the same, but the accuracy of current display is different.
3 CM CF function is the same, but the accuracy of current display is different.
4 CM CF added function: quickly call 10 sets of voltage and current data and store 10 sets of voltage and current data required by the user, password lock operation keyboard to prevent misoperation or man-made damage operation.
Two parameters specifications
1, rated working conditions and external dimensions
Power supply voltage 220V ± 10% 50/60Hz (110V need to order)
Operating conditions Temperature: 0-40 ° C Relative humidity 80%
Storage conditions Temperature: -10-70 ° C Relative humidity 70%
Dimensions 265 × 128 × 150mm (D × W × H)
weight 2.3KG
2, the steady state parameter
output voltage is continuously adjustable from 0 to 30V (resolution value 0.1V)
voltage output accuracy: ± 0.1V
voltage stability :<0.01%+3mv
Load stability: <0.01%+3mv
Recovery time: 100uS
ripple noise voltage: < 1mVRMS (5Hz-1MHz)
Temperature coefficient: <300PPM/C
3. Constant current state parameter
Constant current value: 0- 5A
constant current output current continuously adjustable from 0 to nominal value (resolution value 0.01A)
constant current output accuracy: ±0.01A
current stability <0.1%+3mA
load stability <0.1%+3mA
ripple noise current < 3mARMS
4, OCP overcurrent automatic cutoff parameter
OCP current value: 0-5A Accuracy: ±0.01A)
5. Current-voltage display accuracy
voltage display accuracy: ±0.1V (constant current state)
DPS-305B three-position current display accuracy : ±0.01A
DPS-305BM Four-position current display accuracy: 0.000---0.45A ±0.001A
0.45----5A ±0.01A
DPS-305BF Five-position current display accuracy: 0.0001--0.0450A ±0.0001A
0.045- --0.45A ±0.001A
0.45----5A ±0.01A
DPS-305CM Four-position current display accuracy: 0.000---0.45A ±0.001A
0.45----5A ±0.01A
DPS-305CF Five-position current display accuracy: 0.0001--0.0450A ±0.0001A
0.045---0.45A ±0.001A
0.45----5A ±0.01A

6. Storage capacity
storage and recall of ten sets of current and voltage data (305CM/3CF) The
initial stored data is: Button 1 (3V) ) Button 2 (5V) Button 3 (9V) Button 4 (12V) Button 5 (13.8V) Button 6 (15V) Button 7 (18V) Button 8 (19V) Button 9 (20V) Button 0 (24V) Current value 5A, the user can arbitrarily set to change the required voltage and current.
7, voltage stepping range
can be 10V/1V/0.1V stepping voltage stepping
three panel features

1, front panel
current display window display value is the actual
voltage value of the load voltage display window display value is the actual voltage value of the output port
data input keyboard ( Dual function buttons are: Decimal point / save / adjust ENT / password 4 / step 7 / step 8 / step 9 / step 1 step 2 / step 3 / step)
constant pressure / ENT indicator
constant current indication Lamp (constant voltage CV lamp and constant current CC lamp are lit at the same time as OCP status indication)
Output indicator
Power switch
output "-" port: Negative (black)
ground GND: Ground (green)
Output "+" port: positive polarity (red)
2, rear panel
AC voltage input socket (including fuse)
110V/220V transfer switch (option)
cooling fan (option)
four instructions for use (special instructions: allow users to either Indiscriminate operation of the power supply or short-circuiting of the output port in any state for a long time will not cause damage to the DPS DC power supply itself, so use it with confidence.
1. Initial power-on state: When the
power is turned on, the digital tube will first display 8 to check the digital tube. , then display the model number, display the voltage and current values ​​set last time, and finally enter the working state and output.
If it is not the operation setting whether the power is turned on or not, please do not press any button in advance and then power on. Since the power supply must self-test after each power-on, the self-test content includes checking whether the button is normal. If the user presses the button and is powered on, it may cause the power supply to fail to enter the working state and crash. After this happens, just release the button and turn it on again to return to normal operation.
2. Voltage value input
A Step input
a The following is the state of the power supply factory step setting, the status code is 3333333.
1 2 3 7 8 9 The buttons are 10V/1V/0.1V stepping and lowering keys respectively. In order to prevent the erroneous operation from damaging the load, the lifting and lowering 10V must also press 4 and 7 or 4 and 1 at the same time to raise and lower.
b The following is the setting to prevent stepping error operation. It is suitable for the user's workbench crowded and accidentally touches the step-up button to cause the output voltage to rise. It is used by users in need. The status code is 4444444. (Not recommended for users)
Setting method: Before the DC power supply is not powered, press the 4 button and power on. After power-on, after all the digital tubes are displayed as 4, immediately release the 4 button. After setting, you must press the 4 and 8 buttons at the same time to step up and increase the 1V and press the 4 and 9 buttons simultaneously to step up. It is 0.1V, and the step subtraction method is unchanged.
Return to the factory step setting method: before the DC power supply is not powered, press the 4 button and power on. After the power is turned on, the digital tube is all displayed as 3, and the 4 button can be released immediately. After setting, it will return to the factory step setting state.
Note: After operating the above settings, the power will automatically remember the status of the user settings.
B Key input
column: need to output 13.8V voltage
Press voltage V respectively Press 1 3 8 Finally press ENT key to complete.
Column: need to output 9V voltage,
press voltage V, press 9 directly, then press ENT key to complete.
Column: need to output 4.5V
according to voltage V. Directly press 4. 5 Finally press ENT key to complete.
Press V 4 for voltage V. Finally press ENT and the result is the same.
In short, the results are the same with the most complicated or simplest input methods.
Tip: When the
voltage input data is greater than 300 and greater than 30V, the instrument will not accept the input and return the voltage value before the setting.
When the data input by the keyboard does not meet the requirements or input incorrect data, you need to delete and re-enter the new data. Then press the V key, so that the voltage data just entered is deleted and can be re-entered. If you want to exit the voltage setting state at this time, just press the ENT key to return (and to exit the voltage input mode, you must first press the V button, and press the ENT key to exit).
A word in the voltage display window flashes, indicating that the power is waiting for the user to enter the data for that bit.
When the CV/ENT input confirmation indicator is flashing, the power is waiting for the user to press the ENT confirmation button to confirm the input value.
3, CC constant current value and OCP automatic cutoff current value input
DPS DC power supply has two current protection modes: a. CC constant current protection b. OCP automatic cutoff protection. The user can only select one of the protections, and the two current protection methods cannot exist at the same time.
When the CV lamp is lit, the protection state of the power supply is the CC constant current protection state. The input current value is the constant current value automatically converted into the constant current state of the instrument. When the load current is equal to or greater than the current constant current value, the power supply is from the constant voltage. The state enters the automatic constant current CC state, the CC indicator lights up, the CV lamp goes out, the current limit continues to be output at the set current value, and the output voltage is pulled low (the actual voltage value is pulled down by the internal resistance of the load, and Ohm's law is calculated) The voltage values ​​are the same. For example, the constant current value is 1A. After the constant current, the voltage is 2V, the internal resistance of the load is 2 ohms. In the constant current state, the load is not cut off and the output continues.
When the panel CV lamp and CC lamp are lit at the same time, the protection state of the power supply is the OCP protection state, and the current input value is the current threshold value of the overcurrent automatic stop output. When the load current is greater than or equal to the current set value, the OCP will automatically stop outputting and the OUT light will be off. Only when the OUT button is pressed, the power will be output again.
Column: Need to output 1.38A current
according to current I Press 1. 3 8 Finally press ENT key to complete.
Column: Need to output 5A current
according to current I Press 5 directly and press ENT key to complete.
Column: need to output 0.5A current
according to current I Press directly. 5 Finally press ENT key to complete.
Press the current I to press 0. 5 Finally, press the ENT key and the above result is the same.
In short, the results are the same with the most complicated or simplest input methods.
Tip: When the
current input data is greater than 500 and greater than 5A or equal to 0.00A, the instrument will not accept the input value and return the current value before the setting.
When the I key is pressed, the current display window displays the last current input value. When the power input is input and the input valid value is confirmed, the instrument first displays the input current value and returns to display the actual current measurement value.
When the data input by the keyboard does not meet the requirements or the wrong data is input, you need to delete and re-enter the new data, then press the I key again, so that the input data is automatically deleted and disappeared, and you can re-enter. If you want to exit the current setting state at this time, just press the ENT key to return (and to exit the current input mode, you must press the I button first, and press the ENT button to exit).
When the I key is pressed, a word in the current display window flashes, indicating the current data waiting for the user to input the bit.
When the CV/ENT input confirmation lamp flashes, it indicates that the power is waiting for the user to press the ENT key to confirm the input value.
4. Constant current and constant voltage characteristics
When the voltage value and current value are preset, when the power supply is under load, the state in which the power supply operates is determined by the internal resistance of the load, which is in accordance with Ohm's law R=V/I.
When the output current reaches the constant current constant value input, the constant current state is automatically entered from the constant voltage state, and when the load current is lower than the set value, the constant voltage state is automatically returned from the constant current state. The indicator light V on the front panel indicates that in the constant voltage state, the indicator light I on the front panel is illuminated in the constant current state.
Column: When charging the battery with 12V DC, set the power output to 13.8V, set the constant current value to 1A, and connect to the battery. At this time, the power output 1A charges the battery constant current. When the charging is completed, it will not Constant current 1A is required to be charged. At this time, the power supply will turbulently replenish the battery constant voltage of 13.8V.
5. The power supply CC and COP are protected by the current protection state. The
power supply is set to the constant current CC protection state. The current setting value is the constant current protection current value.
OCP over-current automatic cut-off state entry method:
Press the 4 button first to release the state. When the I button is pressed, the CC indicator lights up, and the OCP over-current automatic cut-off state is entered. In the OCP state, the CV lamp and the CC lamp are simultaneously lit, before being input or saved. The constant current value is automatically converted to the current value at which the COP automatically stops outputting.
When the current value of the load is equal to or greater than the OCP overcurrent value, the power supply automatically stops outputting, the current and voltage display are both 000-000, and the OUT lamp is simultaneously turned off. When you need to re-output the voltage, just press the OUT button, the OUT light will be on, and the power will automatically output the voltage value.
When returning to the CC state, just repeat the above process, the CC light is off, only the CV light is on.
Special reminder: When CC or OCP is set, the power will automatically remember the setting state, and each time the power is turned on , if necessary Simply change the status and repeat the above process.
6. Keyboard password lock (305CM/CF)
After pressing ENT three bills separately, the V/ENT indicator will flash rapidly, waiting for the password to be input, and the power supply will stop outputting. At this time, if you press 2 5 8 three buttons at the same time After that, the ENT or V/ENT indicator will turn to slow flashing, indicating that the password has been entered correctly and the voltage is output. In this state, the VI 0 . button will not work, and the voltage/current/storage/call/mA data cannot be changed. Password release: After repeating the above process once, the function of the VI 0 button is restored.
Tip:
This password is only available to authorized users.
If the ENT indicator flashes quickly for a few seconds after pressing the ENT 3 banknote, if the password is not entered or the password is incorrect, the instrument will automatically return to the previous state.
7. Output breaking function
When the OUT indicator of the instrument is on, press the OUT button, and the power will stop outputting immediately. When the OUT indicator of the instrument is off, press the OUT button and release it, then the power will be output and the OUT indicator will be on.
8, storage / call (305CM / CF)
A storage:
First set the V and I values ​​to be stored (must confirm the data by pressing ENT) and press it separately. (Decimal point) After 3 seconds, the V/ENT lamp flashes slowly, the power supply enters the storage state, and within 3 seconds of slow flashing, if the number keys in 0 to 9 are pressed, the current current and voltage data are stored. In the button (if you press 1, it will be stored in the 1 button). At the same time, the V/ENT lamp is not flashing and enters the working state.
If the 0 to 9 button is not pressed within 3 seconds of slow flashing, the memory state is exited and returned to the working state.
B quick call:
a quick click separately. After the (decimal point) key, the V/ENT lamp flashes rapidly, and the power supply enters the recall state. If the 0 to 9 number keys are pressed again within 3 seconds of rapid flashing, the power supply automatically removes the current from the 0 to 9 buttons. Voltage data, and display and output.
If the 0 to 9 button is not pressed within 3 seconds of rapid flashing, the recalled state is exited and returned to the working state.
9. Whether the
power supply is directly output voltage setting When the power is turned off, the power supply is self-tested and directly outputs the voltage value and current protection value of the last power-on state, and the OUT light is on.
Set to not output voltage every time the power is turned on:
Before the DC power is not applied, press the OUT button and power on. After power-on, the digital tube is all displayed as 2 (status code 22222222). After the OUT button is released, after the power enters the state, the OUT light does not light, the voltage display is 0, and there is no voltage at the output, waiting for the user to manually press the OUT button. The power is output.
To return the status of each output, simply repeat the above process. After power-on, the digital tube is all displayed as 1 (status code 11111111). After the OUT button is released, after the power enters the state, the OUT light is on and the voltage is output.
After operating the above settings, the power will automatically remember the state of the user settings.
10, the increase of cooling fan
This unit is fanless and supports continuous full power output. If continuous full power output is required for 24 hours or longer, a fan can be added to reduce the internal temperature.
Installation method: The machine has reserved fan interface CJ11 (Vcc is positive) and chassis fan fixing hole on the power board. Users only need to install the model 8025 DC motor with 24V voltage (if the user needs the output) When the voltage does not exceed 24V, it is also possible to use a DC fan with an 8025 voltage of 12V.
Five notes
1. Input voltage selection: The input AC voltage should be 220V ± 10% 50Hz.
2. Grounding: The protective earthing end of the three-core power cord must be reliably connected to the safety ground to ensure the safety of the user and peripheral instruments.
3, the replacement of the fuse: When the power button is pressed, the panel indicator and the digital tube are not bright, then the fuse may be burned. If it is confirmed that the fuse is burned, find the fuse. The reason for burning is excluded and the fuse of the same specification is replaced. Remember to replace the fuse before removing the fuse from the outlet.
4, placement: In order to ensure the service life of the power supply, in the long-term use, please put the power supply in a well-ventilated environment (23 ° C ± 5 ° C), do not use in places where the ambient temperature exceeds 40 ° C, heat dissipation The unit is located at the rear of the instrument and should have enough space to facilitate heat dissipation. Unplug the power cord when not in use for a long time.
5. Abnormal operation: The operation mode and abnormal operation of this power supply will not cause power supply damage, but it may damage the load (when the output voltage exceeds the load working voltage).
6. Trouble-shooting: If there is any abnormality in the power supply, please send it to the manufacturer or supplier for treatment. Do not overhaul it yourself. Otherwise, the manufacturer will not bear any consequences.
Six accessories
1 power cord 1 pcs
2 Power supply 1 pcs
DPS-305BM 220V / 110V 4 PS Digital Display Control 30V 5A DC voltage regulated power supply for repairing Lab
Please Login / Signup to add your review