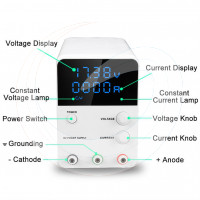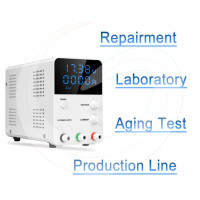 GPS305D High Precision Adjustable Digital DC Power Supply 30V / 5A AC220V AC110V
GPS305D High Precision Adjustable Digital DC Power Supply 30V / 5A AC220V AC110V
Categories: PRODUCT CATEGORIES/ Power Supply
GPS305D High Precision Adjustable Digital DC Power Supply 30V / 5A AC220V AC110V
Notes:
Dear Friend. due to design weight problems.
The GPS series produces the total weight of the product that contains the power cable exceeds 2 kg, is shipped from China. Can not send most logistics methods.
So we have to remove the power cable, our products do not have the power cable. Please, understand.
The power cable used by our power supply is a general specification.
Features:
1, with a wide range of Input Voltage 230 V / 110 V.
2, with high frequency operation can reduce the size of the power transformer.
3 Small size, light weight and high density power.
4, the total efficiency rate exceeds up to 70%.
5 Zero adjustment For voltage and current output.
6 Short circuit protection!
Specification parameter:
Operating environment: indoor use, altitude up to 2000 m, installation category II, Degree of contamination 2
Operating temperature and humidity: 0 ~ 40 ℃, RH <80%.
Storage temperature and humidity: -10 ~ 70 ℃, RH <70%.
Constant operation voltage:
(1) The output voltage ranges from 0 to the rated voltage with continuous adjustment.
(2) Voltage regulation:
Line regulation <5mV.
Load regulation <5 MV.
(3) Recovery time <500us (load change of 50%, minimum load of a).
(4) ripple noise <5 m Vrms 100 m Vp-p
(5) temperature coefficient p <100 / C
Insulation: insulation
Between chassis and output terminal:> 20 M ohm (DC500V).
Between chassis and AC cable:> 30 M ohm (DC500V).
Packing list:
1. Power supply X 1
2 1X1 charging cable
3. Operation Guide X 1
GPS305D High Precision Adjustable Digital DC Power Supply 30V / 5A AC220V AC110V
Please Login / Signup to add your review