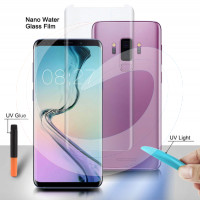 Full UV Glue 3D Curved For Samsung Galaxy S9 / S8 / S9 Plus / S8 Plus Liquid Tempered Glass lot For Samsung Note 8 / Note 9 / S7 Edge 50 Pcs Lot
Full UV Glue 3D Curved For Samsung Galaxy S9 / S8 / S9 Plus / S8 Plus Liquid Tempered Glass lot For Samsung Note 8 / Note 9 / S7 Edge
Categories: Cell Phones Accessories/ Mobile Tempered Glass
Full UV Glue 3D Curved For Samsung Galaxy S9 / S8 / S9 Plus / S8 Plus Liquid Tempered Glass lot For Samsung Note 8 / Note 9 / S7 Edge
Product Description
LIQUID DISPERSION TECHNOLOGY: Our patented liquid glass evenly scattered over your entire screen, including existing scratches and scuffs, and hardens to create an impenetrable edge to edge barrier while repairing former cracks and imperfections.This screen protector is one of a kind, it is made from a high tension tempered 9H glass for enhanced protection of your Phone screen which is then protected by a special film even if you did manage to break the screen protector, it will not shatter into pieces, keeping you safe.Not only does the glass screen protector keep your phone free from scratches it helps you strengthen the Phone screen which can help your screen from cracking or breaking when accidentally dropped, 3D Arc angle explosion proof, shatter resistant, more secure than other glass products.Surface is anti-oil processing (Oleophobic coating), so fingerprints and oil is not easy to stay, easy to clean
Tempered Glass Color: Clear
UV Light Color: Random
UV Glue Color: Random
Note:
Due to the Full Screen Protection Design, this protector may Not Compatible with some Hard and Full Body case.
When putting on a phone case, DO NOT press down on the screen too hard protector.
The adhesive could spill out of glass, but it does not do any harm to device. Just wipe it out as instructed.
Package Included:
1 x Nano Water Glass Film
1 x UV Light
1 x UV Glue
1 x Alcoholic Preparation Pads
Full UV Glue 3D Curved For Samsung Galaxy S9 / S8 / S9 Plus / S8 Plus Liquid Tempered Glass lot For Samsung Note 8 / Note 9 / S7 Edge
Please Login / Signup to add your review