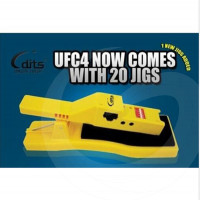 Dits ufc4 28 in 1 clip box unlocking box unlock tool.
Features:
1)UFC4 Supports JAF,UFS,MTbox, cyclone , ATF,Infinity ,NS PRO etc.
2)Tota; 14 slave PCB'S it wills supports all available Nokia Models,
3)5 Slave PCB using for Alcatel for Samsung for LG, AND for ZTE...
4)High quality copper pins and slip clips for good conductivity
5)Additional USB power supply for Mobile phones.
6)3.3k .5.1k,7.5k,10 k,15k ,BSI resisters (You can make resistance value as you like with parallel switching )
7)VPP and Rx2 connections for mobile phone
Please Login / Signup to add your review