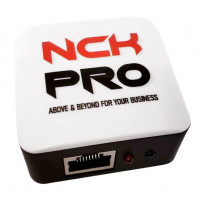 NCK Box Pro is a multifunctional phone-servicing tool for Alcatel, Samsung, LG, Huawei and other models flash, software repair and unlock procedures.
NCK Box Pro - Features:
Direct Unlock
Read Codes
Alcatel, Motorola WX-series:

NCK (Network Control Key) code
NSCK (Network Subset Control Key) code
SPCK (Service Provider Control Key) code
CCK (Corporate Control Key) code
PCK (Personalization Control Key) code

Support for a specific firmware and hardware versions:

Models locked with "hardware lock"
Models with auto SP-lock
Models with more than one SIM
Models with disabled unlock code menu
Unlock Code Calculation by IMEI
Flash/Backup
Read phone's firmware version
COM port speed – up to 921600 bps
Read and restore backup
Upgrade firmware (restore backup from one phone into another)
Upgrade and downgrade firmware version
Huge flash files archive:

Latest firmware versions
Huge archive of operator's firmwares
Huge selection of language packs
IMEI
Repair IMEI, including models with more than one SIM
Repair Software IMEI (phones with IMEI located in the file system)
Repair "Blank" IMEI
Repair Security Area
Repair Alcatel Security Area via flashing
Works with FFS through boot mode (allows to export information from the phone's FFS zone even if the handset is dead, but file system of the phone is not damaged)
Works with network calibrations (backup and restore)
Phone book backup
Format file system
Other Features:
ADB Communication Function - Improved
NV Read / Write
Remove ESN, MEID, SPC and IMEI from Full Firmware - Improved
Qualcomm Firmware Editor
One-click FTM Fix for the phones stuck in FTM Mode
Read / Write RUIM Configuration
Auto-Detection of CPU type, Flash and EFS size
Read Firmware in Normal and Download Mode
ESN to MEID Brute-force to find matching MEIDs for a given ESN
Full Diagnostic Terminal to send any Diag Command to a phone
Advanced Features:
Automatic Detection of Firmware Type
Automatic Flash Chip Detection to protect from flashing a wrong size Firmware
Manual Mode Unlocking for ZTE Phones to unlock even unsupported phones
Automatic Detection of Phone Model for LG and ZTE
Automatic User Code Read while reading Information
ZTE Recovery Module to recover most ZTE Phones in blinking condition
NCK Box Pro - File Names Specifications:
Locked – means that after firmware update procedure the phone will be locked
Unlocked – means that after firmware update procedure the phone will be unlocked
Flash ID – means that firmware is intended for a specific flash memory type
Language description – means that each file contains description of languages that are placed in the flash file
Supported Features by Avengers Android MTK Software:
Flash Firmware = Allow to flash Firmware

Full Firmware (preloader + format)
Upgrade Mode (without flash preloader and format).
Allow to select manually files what will be flashed(enable or disable files)
Perform after flash checksum verification.

Dump phone firmware = Read factory firmware +additional files like

NVRam
Protect
FRP etc
USER Data (Good For backing up Phone Photos, SMS, Phone Book etc) with detailed info about preloader, firmware and IMEI.
NCK Box Pro - Package Content:
NCK Box Pro with smart card inside
USB A TO B cable
Please Login / Signup to add your review