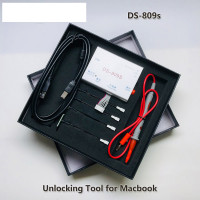 Upgrade DS-809S Unlocking Tool For MacBook Pro Air For iMac MAC Mini Tool EFI PadLock Unlock EFI BIOS Unlock For Repairing
DS-809s Unlocking Tool Read Write SN for Repair Macbook iMac Air SPI ROM IC DS809 icloud Unlock Tool
$198.28

| | |
| --- | --- |
| Quantity | Price |
| 1- | $198.28 |
Categories: PRODUCT CATEGORIES
DS-809s Unlocking Tool Read Write SN for Repair Macbook iMac Air SPI ROM IC DS809 icloud Unlock Tool
1. The method of use is simpler and the speed of reading data is faster. 2. Three groups of stable voltages have been added. The function of the three sets of voltages is to provide stable power supply to the BIOS chip of the motherboard, so that the device can read the information of the BIOS chip more easily. 3. Support more BIOS chip models and more stable performance.
DS-809S is an upgraded version of DS-809.
MacBook Pro 2010-2017 MacBook Air 2010-2017 MacBook 2015-2017 iMac 2010-2016 Mac Mini 2010 – 2016 and other models unlock (unlock firmware, PIN code lock, iCloud ID lock, modify motherboard serial number, add motherboard serial number, modify ME in BIOS data, read and write BIOS data) and other functions. It can also be applied to the reading and writing of BIOS chip data of various brands such as Dell Hp Lenovo Asus Acer Sony Samsung and the unlocking of BIOS passwords.
How to use three sets of voltages:
Three sets of voltages 2V, 2.5V, 3V adjust different voltages in different years. If the voltage is adjusted higher, it will not cause any damage to the motherboard, it will only affect the ability to successfully read and write data. 1. The 2V voltage is suitable for Macbooks from 2016 to 2017. If the error is reported, the voltage can be adjusted to 2.5V 2. The 2.5V voltage is suitable for the Macbook Pro Air from 2015 to 2017, if the error is reported, the voltage can be adjusted to 3V 3. The 3V voltage is suitable for Macbook Pro Air from 2010 to 2014.
How to use the probe:
Use a probe pen to connect to the probe hole, and then point the probe pen to the power supply pin connected to the BIOS chip.
Unlock the whole machine:
1. Disassemble the bottom case of Macbook machine, disconnect the battery connection of the motherboard 2. Install the device software on the Win system computer, connect the DS-809S to the computer with a USB cable, and find the corresponding SAM socket on the other side to connect to the Macbook motherboard. 3. Find the connection point with the power supply pin of the BIOS chip on the motherboard 4. Connect the probe pen, adjust the voltage, and point the probe to the connection point of the corresponding power supply pin of the BIOS chip 5. Read BIOS information 6. Remove the password from the BIOS data and unlock it
DS-809s Unlocking Tool Read Write SN for Repair Macbook iMac Air SPI ROM IC DS809 icloud Unlock Tool
Please Login / Signup to add your review