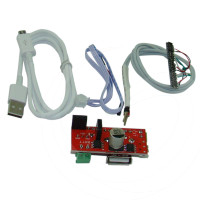 iPower Adapter for MFC Dongle
iPower Adapter for MFC Dongle iPower Adaptor is an additional kit for MFC Dongle, which is used to brute force Apple iPhone's (with iOS v.8.x.x) 4-digit passcode. Note: For iPower Adaptor to work, it is a requirement to have 3-in-1 OTG Charging USB Cable
Categories: Flash & Unlock/ Cables and Adapters/ Adapters
iPower Adapter for MFC Dongle
iPower Adaptor is an additional kit for MFC Dongle, which is used to brute force Apple iPhone's (with iOS v.8.x.x) 4-digit passcode.
Note:
For iPower Adaptor to work, it is a requirement to have 3-in-1 OTG Charging USB Cable and MFC Dongle .
So when you purchase an iPower Adaptor, make sure you have other two devices stated above.
iPower Adaptor – Package Content: *
iPower Adaptor - 1 pc.
Micro USB Cable (used for connection to Micro USB charge port) - 1 pc.
Red Boot Cable – 1 pc.
Please Login / Signup to add your review