2021 GLOCALME 4G SIMBOX MULTIPLE SIM STANDBY NO ROAMING ABROAD FOR IOS & ANDROID ,WIFI / DATA TO MAKE CALL &SMS
Multi 4 SIM Dual Standby No Roaming 4G SIMBOX for iOS & Android ,No Need Carry ,work with WiFi / Data to Make Call &SMS
Version:
Categories: Security & Protection/ Smart Home wireless
Glocalme 4G SIMBOX Multiple SIM Standby No Roaming Abroad for iOS & Android ,WiFi / Data to Make Call &SMS
China version can use in Hong Kong, Macao and Taiwan and Southeast Asia area.
Warm reminder: If the equipment needs to be used in Europe, America and West Asia, it is recommended to check whether the communication frequency band of the local operator is applicable before purchasing, thank you!
No limit on call time
There is a talk time limit on the APP interface: there are 200 minutes of talk time per month, and you need to purchased talk time if more than 200 minutes. But this is not effective.
I will explain this as follows. The call time limit mentioned on this page is not in effect. Even if your call time exceeds 200 minutes per month, you can continue to use it without any restrictions. Please do not misunderstand.
Why is there a charge interface in the APP, i will tell you.
As the number of users increases, the pressure on the server is increasing, so our company did intend to do a charging function to alleviate the economic pressure of the server. APP has added this function, but in the end the leadership decided to cancel this function and continue The service is provided to users for free, and there will be no charging function in the future, and the charging page will be removed in the next version, so users are requested not to misunderstand.
New design
The Glocalme company change new product design and packaging design. remove the USB port, change the logo from Glocalme to SIMBOX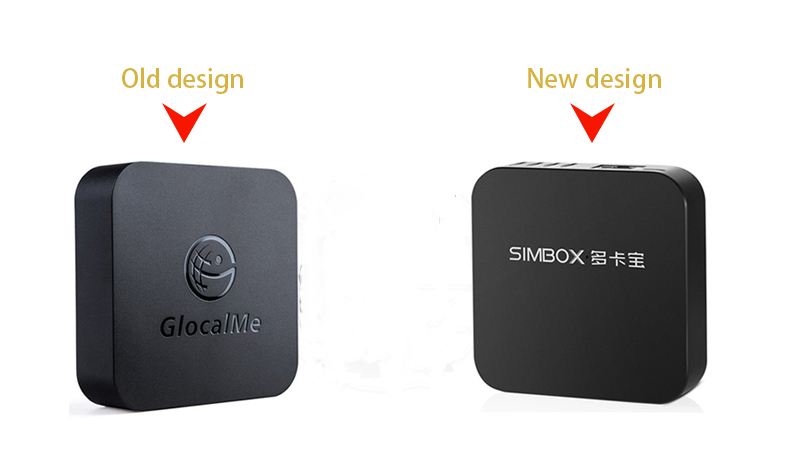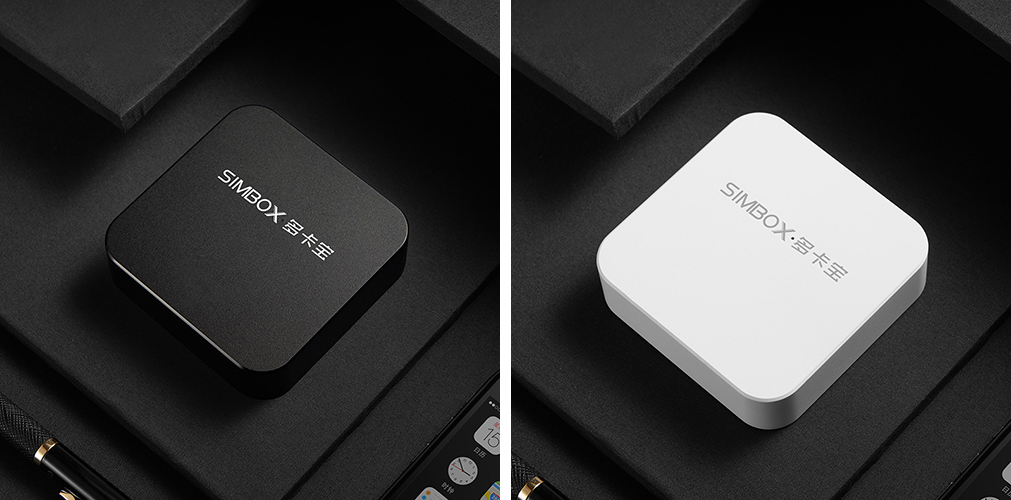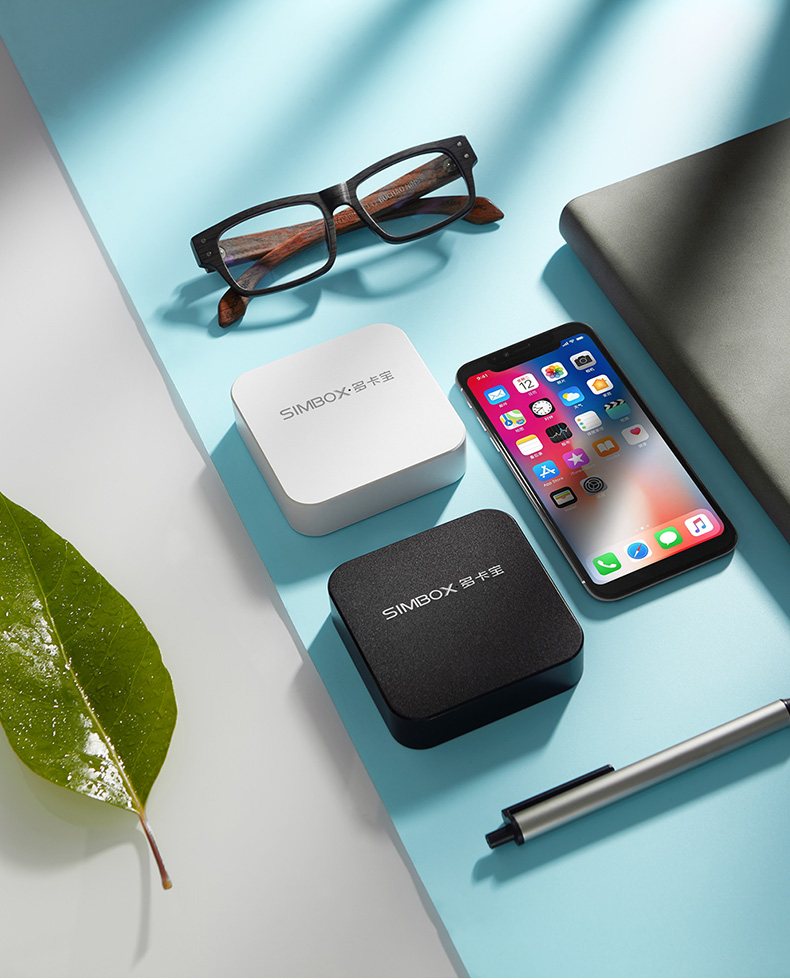 Product Design Purpose
1:At present, many people need to use a lot of SIM cards for work reasons, but the mobile phone only supports one or two SIM cards, which cannot meet their needs, so they need to carry multiple mobile phones which has brought a lot of troubles.

2: Many people often go abroad for business or travel. The roaming fees generated by each trip abroad are very expensive. This will be a huge expense and a big problem.
Product Functions
*If you have multiple SIM cards ,and carry multiple phones every day ,and SIMBOX let you one smart phone manage multiple SIM cards

*If you travel abroad often and have high roaming charges every time, SIMBOX can make you go abroad without any roaming charges.
Support OS
Work with iOS and Android system, find the app in Google play store and APP store : "Glocalme call "
Product working principle
Put the SIM card in the SIMBOX, and SIMBOX connects to broadband to access the Internet. "Glocalme call" APP install on the mobile phone, and the APP is bound to the SIMBOX. No matter where your mobile phone is located above, as long as your mobile phone has a network, then the APP can remotely control the SIMBOX through the network, and manage the calls and SMS. ( It's as if you use the APP to remotely control the camera at home to check the situation at home, and you can talk in both directions)

The VOIP voice transmission is between the APP and the SIMBOX, the SIM in the device connect to the local base station.
Unique advantages of the SIMBOX
1:Two people can use one SIMBOX, after the main account is bound to the SIMBOX, the main account can share the sim card in the SIMBOX to other account ,two accounts can control 2 SIM in the device separately, independent of each other.

2: One APP can bind multiple SIMBOX,So one mobile phone can manage multiple SIM, as long as you have enough SIMBOX. and each SIMBOX can have 2 SIM cards online at the same time. If you have 10 pcs SIMBOX, then you will have 20 SIM cards online at the same time and so on.
Advantage
1.Put it with your SIM card at home,and you can still access your phone call or message.

2.Voice call and messages transfer through internet to the App on your phone.

3.Plug in the power and use, that is all you need to do.

4.This is the best dual SIM adapter for your phones

5.No roming fee when you travel to other country. You can make and receive domestic calls/messages at any time free of charge so that you will not miss any important call or miss any important information.

6.Suitable for home or office.

7.Small and easy to use.

8.Far more stable and secure than other products which use bluetooth.

9.Use internet to transfer the voice and message,stable and power saving.
MODEM Performance Indicators:
Name:SIMBOX
Size:80*80*21mm
Battery:attery -restructure
Physicalkey:Reset
Interface: SIM sIot 4/RJ45:1/Micro USB interface: 1
Routing platform:MTKMT7688N, 16M+64M
Modemplatform:MSM8909512MB+4GB
Network support :
LTE:B1/2/3/4/5/8/9/17/20/38/39/40/41
WCDMA:B1/2/4/5/8
CDMA&EVDO: BC0/1
GSM:B2/3/5/8
System compatibility: iOS 9.0and above & Android 5.0 and above
Certificate: CE/FCC/NCC/JATE&TELEC/IDA/KCC/IC
Package includes:
1 x simbox
Multi 4 SIM Dual Standby No Roaming 4G SIMBOX for iOS & Android ,No Need Carry ,work with WiFi / Data to Make Call &SMS
Please Login / Signup to add your review